4K-HDMI Extender(70m)
1. Support the Max transmit distance: 1080P up to 100M,4K*2K@30Hz up to 70M
2. Support the highest resolution up to 4K×2K@30Hz
3. Support HDMI 1.4 version
4. Support IR transmission
5. Support loop output
6. High compatibility, can auto-match source and display device
7. Built-in automatic adjustment system, make the image smooth, clear and stable
8. Built-in ESD protection system
9. Simple to install, plug and play


Product Information:
1. Introduction
This 4K-HDMI extender can transmit high definition signal of Blue-Ray DVD player, PC and other equipment via Cat5e/6 cable(recommended), support the highest resolution of 4K×2K, 1080P transmission distance up to 100 meters, 4K transmission distance up to 70 meters, support infrared transmission, support loop output. The product is stable, east to install, and highly practicable, it can be used in major projects, meeting halls and other places.
2. Features
1. Support the Max transmit distance: 1080P up to 100M,4K*2K@30Hz up to 70M
2. Support the highest resolution up to 4K×2K@30Hz
3. Support HDMI 1.4 version
4. Support IR transmission
5. Support loop output
6. High compatibility, can auto-match source and display device
7. Built-in automatic adjustment system, make the image smooth, clear and stable
8. Built-in ESD protection system
9. Simple to install, plug and play
3. Product interface pictures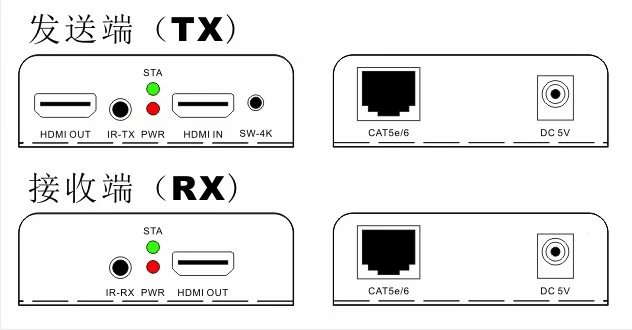 | | |
| --- | --- |
| Port name | Description |
| HDMI IN/OUT | HDMI signal input/output |
| Cat5e/6 | RJ45 port connect cat5e/cat6 |
| IR TX/RX | IR signal input/output |
| SW-4K | Switch 4K |
| DC/5V | Power adapter socket |
| LED indicator | Description |
| PWR | unit power indicator |
| STA | HDMI signal indicator |
4. Specification
Parameter

Description

Video

Standards

HDMI 1.4; HDCP 1.4

Maximum pixel clock

340MHz,digital

Maximum data rate

10.2Gbps

Max Resolution

3840×2160@30Hz(4K@30Hz)

Connector

HDMI-A

Impedance

100Ω

IR

Interface

3.5mm seat

Signal direction

Unidirectional

IR frequency

30-60KHz

UTP

Interface

RJ45

Transmission distance

1080P: 100M; 4K: 70M

Other

Power supply

The power adapter: DC 5V/1A

Power dissipation

MAX 3W

Temperature

Operating: -5℃ ~ +70℃

Humidity

Operating: 5% ~ 90%

Dimension

95*73*26mm
5. Installation Process:
1. Connect the provided DC/5V power supplies to the power socket of the transmitter and the receiver
2. Connect an HDMI cable between the HDMI input port of transmitter and the HDMI output port of the video source
3. Connect the HDMI output port of receiver to the display device with HDMI cable
4. Connect the transmitter RJ45 port to the receiver RJ45 port using a single CAT5e/6 cable.

6. Package
1. HDMI transmitter x1 pcs
2. HDMI receiver x1 pcs
3. Power adapter x2 pcs
4. IR TX/RX terminal x 1 set
5. User manual x1 pcs