60meters HDMI Extender
1. Transmits HDMI signal up to 40m distance over single Cat5e and up to 60m over single cat6 cable
2. HDMI 1.3 & 3D Support
3. The network line conforms to the standard of IEEE-568B
4. Support video resolution up to 1080P@60Hz
5. Support audio format: DTS-HD / Dolby- true HD / LPCM7.1 / DTS / Dolby-AC3 / DSD
7. DC5V power supply is included
8. Support POC/IR(Optional)


Product Information:
I. Introduction
This HDMI Extender allows you to extend your HDMI signal over standard Network cable.
While HDMI cables are expensive, inconvenient to wire and suffer from very limited transmission distances – Ethernet cables offers a wonderful alternative.
This HDMI Extender enables you to extend HDMI signal to remote display unit to a maximum of 60 meters over Ethernet cable while maintaining your remote controller active (from the display unit location).
II. Features:
1. Transmits HDMI signal up to 40m distance over single Cat5e and up to 60m over single cat6 cable
2. HDMI 1.3 & 3D Support
3. The network line conforms to the standard of IEEE-568B
4. Support video resolution up to 1080P@60Hz
5. Support audio format: DTS-HD / Dolby- true HD / LPCM7.1 / DTS / Dolby-AC3 / DSD
7. DC5V power supply is included
8. Support POC/IR(Optional)
Note: 1. If no playing, the factory length and resolution will be defaulted, please press EQ 3seconds
2. Distance may be affected by the cable quality and length
III. Product interface pictures
| | |
| --- | --- |
| Port name | Description |
| HDMI IN/OUT | HDMI signal input/output |
| CAT6 | RJ45 port; |
| EQ | EQ read, connect sender and receiver, press 3 seconds to copy completed (Note: If no learning, the factory length and resolution will be defaulted.) |
| IR-TX/IR-RX | Infrared transmission function |
| DC/5V | Power adapter socket |
| LED indicator | Description |
| PWR | System power indicator |
| STA | HDMI signal indicator |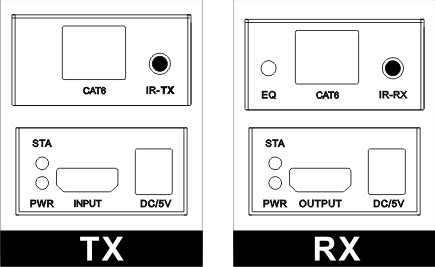 Parameter

Description

Video

Standard

HDMI 1.3; HDCP 1.2

Maximum pixel clock

165MHz

Maximum data rate

6.75Gbps

Resolution

1920X1080@60Hz, 3D

Connector

HDMI-A

Impedance

100Ω

Ethernet

Interface

RJ45

Transmission distance

CAT6---60m

IR(Optional)

Interface

3.5mm earphone Jack

Frequency

38KHz, Unidirectional transmission

Other

Power supply

The power adapter: DC 5V/1A

Power consumption

MAX 3W

Operating Temperature

Operating: -5℃ ~ +70℃

Humidity

Operating: 5% ~ 90%

Dimension

81*45*23mm
IV. Specification
V. Installation Process:
1. Connect the provided DC/5V power supply to the power socket of Tx (Transmitter) and Rx(Receiver) units
2. Connect the Rx unit to the display device by HDMI cable
3. Connect the Tx unit to the video source device by HDMI cable
4. Connect between the Tx and Rx units using Cat6 cable
5. Turn on the source device
6. If no playing, please study by "EQ" button
7. If you change your display unit or cable length, please re-study by "EQ" button. (Repeat process 6)
VI. Package Contents:
1. HDMI transmitter unit ×1 pcs
2. HDMI receiver unit ×1 pcs
3. Power adapter × 2 pcs (1pcs Optional)
4. IR cable × 1set (Optional)
5. User manual ×1 pcs